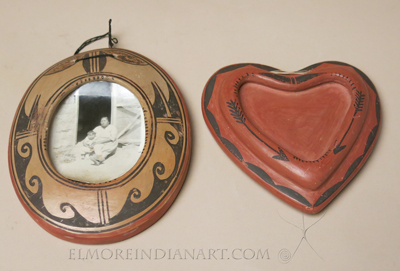 Two Hopi Ceramic Photo Frames, c.1920

updated
Left - Black on cream pottery picture frame with old, intact Hopi photograph. Measures 6 1/2" tall by 5" wide, and in original condition. c.1920, unsigned. Yellow on black with red rim and black designs.

Right - Heart shaped red pottery picture frame, excellent original condition, measuring 5" by 5".


p4180 -- $sold --Left
p4179 -- $750 --Right
Email the Gallery about this item