About Us
Steve Elmore Indian Art specializes in antique southwestern Indian art, offering a large selection of
historic pueblo pottery,
Navajo weavings,
old pawn jewelry,
Hopi basketry,
kachinas,
Pueblo Indian paintings,
vintage photographs
and southwestern paintings.
Located between Santa Fe's historic Plaza and Canyon Road,
the gallery presents an excellent selection of antique pottery from the Rio Grande pueblos including Acoma, San Ildefonso, Santa Clara, Zia, Cochiti, Tesuque, Zuni, as well as the Hopi Pueblos. Many of the pieces in our gallery are available on this online gallery. This website provides our many clients outside of Santa Fe with immediate and equal access to these important objects. For new collectors our website is a resource for exploring all facets of this exciting field, from identification and attribution to pricing and dating. We are always adding new items so check back often and
be sure to check our Recent Acquisitions link at the top of every page
We are presenting the best vintage material that we can find. In Pueblo pottery, we offer only traditional pieces hand coiled of native clay and pit-fired. We are most interested in the period between 1850 and 1950, as this is the time when the artists can often be identified and credited with their creations. Many of our pieces are museum quality, one-of-a-kind items, selected for their rarity and quality. We carry a large selection of pottery forms including effigy figures along with classic water jars, vases, pitchers and dough bowls. Ethnographic canteens and early pottery tiles have been very popular in the past few years. We pride ourselves on showing authentic pieces of southwestern history: great ollas from Acoma to Zuni as well as Hopi seed jars by Nampeyo and her family. For the jewelry enthusiast, a large selection of early Indian jewelry featuring fine handwork and untreated turquoise by Navajo and Zuni silversmiths is offered. In Navajo weavings, we show rugs and blankets woven from homespun wool, carded and spun by the weaver. We are especially attracted to those weavings that show a heavy use of natural sheep colors and great modern abstract patterns. We also have original paintings by Pueblo artists of their ceremonies and culture. "While the supply is scarce, we have worked hard to assemble a unique and diverse collection of authentic historic pieces of southwestern art." As members of the Antique Tribal Arts Dealers Association (ATADA) we fully guarantee each piece we sell and are committed to representing each individual piece accurately for age, origin, condition, etc.
A native of New Mexico, Steve Elmore began collecting over 20 years ago and has been active as an Indian arts dealer for fifteen years. While working in New York City as a freelance photographer, he began scouring the flea markets and antique shows of the Northeast for Pueblo pottery, Navajo weavings, and other vintage Indian material. In the last five years, Steve has assembled a large collection of Hopi pottery, particularly pieces by Nampeyo and her family. He has researched and photographed the Hopi pottery collections of most of the major museums in the U.S. He lectured on Nampeyo in Washington, DC. in 2001, and also presented a lecture on Pueblo Pottery at the Folk Art Museum in Manhattan in January, 2003. "While I clearly love all of Pueblo pottery, I have focused on Hopi pottery because I feel it is closest to the prehistoric Pueblo Ancestral culture, and I felt the pieces were overlooked and undervalued. The genius of Nampeyo, whose career predates by a full generation or more that of Maria Martinez's, continues to fascinate me." In addition to Hopi pottery, the gallery shows a diverse selection of Hopi material culture: baskets, kachinas, and jewelry.
Along with Hopi Pottery, the gallery shows many signed pieces by the well known matriarchs of Pueblo pottery: Maria Martinez, Lucy Lewis, Nampeyo, Margaret Tafoya, Rose Gonzales, Tonita Roybal, and many others. The generation of potters active around World War II bridge the gap between the traditional ethnographic potters and the individualized art potters of our modern world.
Steve Elmore Indian Art is open 10am to 5pm every day except Sunday. We invite everyone interested in antique southwestern art to stop by and say hello. We have tried to create a comfortable no-pressure environment in which learning and relationships are the most important part of any transaction. We are also always interested in buying select individual pieces as well as entire collections. The gallery is easy to find, just one half block north of the entrance to Canyon Road on Paseo de Peralta with free parking in the back. We hope you enjoy the website and find a piece or two to add to your collection. We look forward to hearing from you.
Santa Fe August 2020 Catalog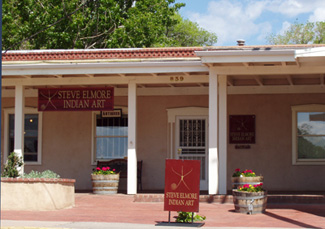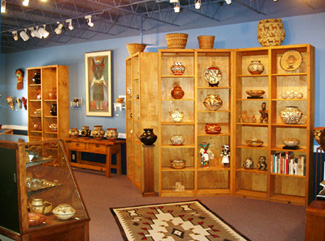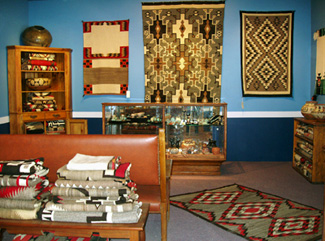 News from Steve Elmore (0)
Our Location@ (0)
360° Tour (0)