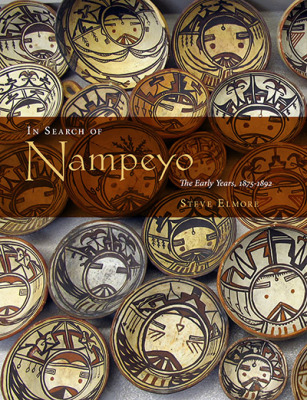 Read Reviews of "In Search of Nampeyo - The Early Years 1875-1892"
Steve Elmore's unified view of the early life and work of the Hopi potter Nampeyo draws on 25 years of research. Nampeyo's early life which has been considered lost to history, has been recreated here through an examination of many sources. The written historical record has been compared with Hopi oral history, photographic evidence, and a careful examination of the pottery in the Keam Collection at Harvard University's Peabody Museum which was collected before 1892. This historical material is through the expertise of modern Hopi potters and Steve's many years working with Hopi potters as an Indian trader.
The result is a comprehensive view of Nampeyo's early life. The book shows the continuity between Nampeyo's early work and her founding of the Sikyatki Revival art movement. Furthermore, Steve connects Nampeyo historically to modernism and the Art Pottery and Arts & Crafts movements. While most scholars of Nampeyo have viewed her through the lens of archaeology or anthropology, Steve views her through the history of art history and Modern art, greatly broadening our view of both.
"Elmore reintroduces us to a distinctive artist whose work deserves rediscovery and celebration."
-High Country News
"Extremely well researched and a major original contribution to the study of southwestern Indian art and Hopi Pottery in particular... No one has done anything of this scope or importance. I actually enjoyed reading it and learned a lot."
-Garrick Bailey, Professor of Anthropology, Author, University of Tulsa
"What [Elmore] discovers at Harvard is the mother lode of Nampeyo's early work."
-Billy Schenck, Southwestern Painter, Collector and Dealer
"In Search of Nampeyo"
Celebrating seven years of publication!

In Search of Nampeyo:
The Early Years 1875-1892
by Steve Elmore

Winner of the Independent Book Publishers Association's Benjamin Franklin Award
and the USA Book News Best Book Award

"In Search of Nampeyo" is the definitive art history book of Nampeyo's early life and career, with examples from the Thomas Keam Hopi Pottery Collection at Harvard University's Peabody Museum. Foreword by Hopi master potter and Nampeyo's great-great-granddaughter, Rachel Sahmie. Published by Spirit Bird Press, Santa Fe, New Mexico, January 2015. 220 pages, 8 ½" x 11", over 100 photographs. Re-released October 2016.

Limited signed hardcover edition SOLD OUT.

ISBN 978-0-9862854-2-4
N -- $50
Email the Gallery about this item